A friend of mine sent the following gif to describe her current situation…and I think most of us have felt like that dog at some point within the past couple of weeks.
As my district enters the second week of remote or distance learning, I feel compelled to share something that I recently mentioned to several colleagues. In my discussions about how to help transition fully face-to-face or blended courses to completely online, teachers, students, and parents have shared their frustrations, fears, and concerns.
To begin, teachers who were not ready to use technology (as in they had not jumped onto that wagon) were suddenly thrust into a situation in which they had to not only quickly set up an online platform (Google Classroom being the easiest), but they also had to figure out how to upload assignments that students could conceivably complete at home. Teachers who used technology here and there had a bit of an easier transition since they had some working knowledge of what technology tools would best support the learning objectives. Then there are the teachers who use technology on a regular basis with their students, BUT they always had the opportunity to provide and receive real-time, face-to-face assistance when technology issues reared its ugly head.
Make no mistake, students use technology. They have their phones and gaming systems. They know how to use those. But those tools are typically for entertainment. Not school work. While some students used technology in their classes, as previously stated, they also had the real-time, in-person support of their teachers.
And then there's parents. Most parents use some type of technology every day. It could be their phones to check email or social media, a computer to do their work, and even online gaming systems to entertain themselves.
So…teachers, students, and parents have some type of working knowledge of technology and how they use it in their daily lives.
But when the schools closed, suddenly all learning was transitioned online to be done at home without training and in-person support. Teachers, students, and parents were forced to figure things out basically on their own. And it hasn't been an easy process. And that's without taking into consideration the stress of this pandemic, running out of food and water, being forced into isolation, not knowing what the future holds…etc. [see gif at the top].
And I wanted to just say…no one* signed up for online learning.
My students didn't sign up to take fully online courses
My colleagues didn't sign up to design and teach fully online courses
The parents of my students didn't sign up to homeschool their child for fully online courses
So, everyone just needs to take a GIGANTIC breath or two or three. I believe that everyone–teachers, students, and parents–is doing the very best they can considering everything else that is going on.
To my colleagues…I want to say, you're doing a great job. I see you working overtime to figure out how to provide some type of continuity for your students. I see you trying to figure out how to create assignments that students can do with minimal direct instruction. I see you trying to balance work, family, five different Zoom session for your own kids, and your sanity. I see you.
To my students…you are doing an amazing job. I see you working late into the night trying to complete assignments or tasks. I see you trying to maintain your composure when you see that the food supplies are low at your house. I see you stepping up to help your little brothers and sisters with their suddenly online courses while trying to maintain the workload you have for your own classes. I see you trying to be brave for your parents who are worried that they may lose their jobs. I see you.
To the parents of my students…you are doing an outstanding job. I see you reaching out to teachers asking questions about technology. I see you patiently sitting down with your child trying to help them understand algebra while also running a Zoom meeting for your elementary aged child. I see your concern about your job and whether you'll have enough money for food and utilities. I see you balancing more than you ever thought you could. I see you.
We may not have signed up for the fully online learning situation…but we can certainly get through this if we put compassion and empathy first. And that my friends begins by first showing compassion and empathy to ourselves…so that we can then BE that to others.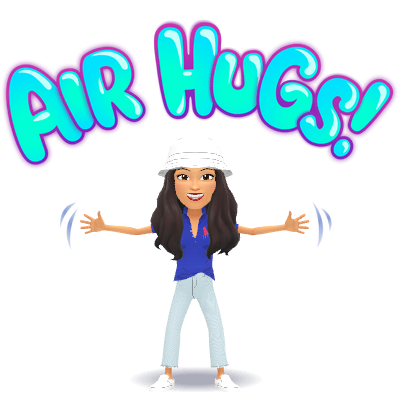 —————-
*I have taught fully online courses…that is totally in my wheelhouse. But that didn't make it any less stressful when I had one day to transition my entire course to be fully online.