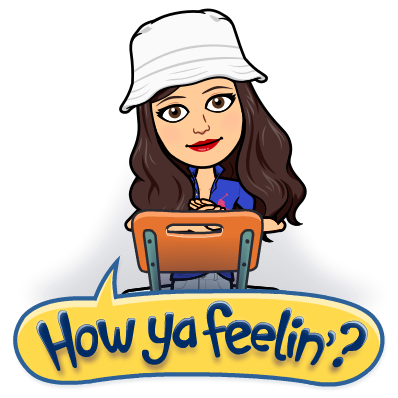 Prior to our rapid transition from in-person to online learning, I used polls on an intermittent level. Sometimes I polled students on their thoughts about a controversial topic prior to an in-class activity, and other times I incorporated polls to share student feedback across all six classes of world history.
But when we moved completely online, I decided to ramp up my poll use. I started by posting polls with quirky or fun questions, and other polls asked for more serious feedback. I addressed that my previous blog post so I'm not going to elaborate anymore on that here.
What I do want to share is the importance of conducting pulse checks with students. Some teachers use polls or Google Forms to collect information about students at the beginning of the week/day or at the end as an exit ticket or reflection. I first conceived of using polls as a means to see who was logging into the LMS. Because I didn't have time to prep my students for what distance learning was going to look like, I was hoping that they would just know to log into our LMS every day.
I was wrong.
Sure, some of the students logged in right away. They were used to the routine in my class. But others either didn't log in at all, waited for emails from teachers, and in some cases a phone call from the community liaisons. But logging in, reading emails, or fielding calls from the front office staff didn't reveal important information about how are my students doing.
So amidst the various fun polls like what's your favorite place to get burgers, I polled students about how they were coping with remote learning. During this crisis, my students have been juggling more than just completing assignments for six different teachers, they have been dealing with larger issues such as shelter, food, and safety. I have posted before on the whole Maslow before Bloom's thing so you know where I stand on this matter.
Because I couldn't physically see their faces or their body language, I made it a point to poll my students on how they were doing. I asked them these questions in a variety of ways, but the one that was most telling was the one that asked How are you doing today?
Check out the progression of student poll responses over time…
As you can tell, my students are getting the hang of things. Sure there's still quite a few who don't like online learning and are struggling, but I'm seeing an upward trend. And that's a relief. I think middle schoolers are quite resilient so I'm glad that at this time almost 75% of them are on the positive side of the scale.
Whew.
As we close out the school year, I'm conducting one final poll. It's a reflection of the past 12 weeks of remote learning. But that's a post for another time.